AP 1st & 2nd Year Model Paper 2021 Download for Telugu & English Mediums with Subject Wise AP Inter 1st & 2nd Year Important Question Paper 2021, AP Inter 1st Year Solved Question Papers Download at…
Board of Intermediate Education, Vijayawada, Andhra Pradesh has published 1st and 2nd year sample model question paper for general and vocational course MPC, BIPC, MEC, CEC students for 1st language, 2nd language, 3rd language and all other subjects of Junior and Senior Intermediate students to the academic year of 2021.
Every year the state leading educational portals of Sakshi Education, Eenadu Pratibha, ABN Andhra Jyothy also provided solved question papers with answer solutions suggested by leading private colleges or educational institutions like Narayana, Sri Chaitanya, NRI, Bhasyam and etc.
The Junior and Senior Intermediate students can download BOI IPE Question Bank 2021 with IMP Bit Questions from the following direct links suggested for Telugu medium, English medium general and vocational course examination tests 2021.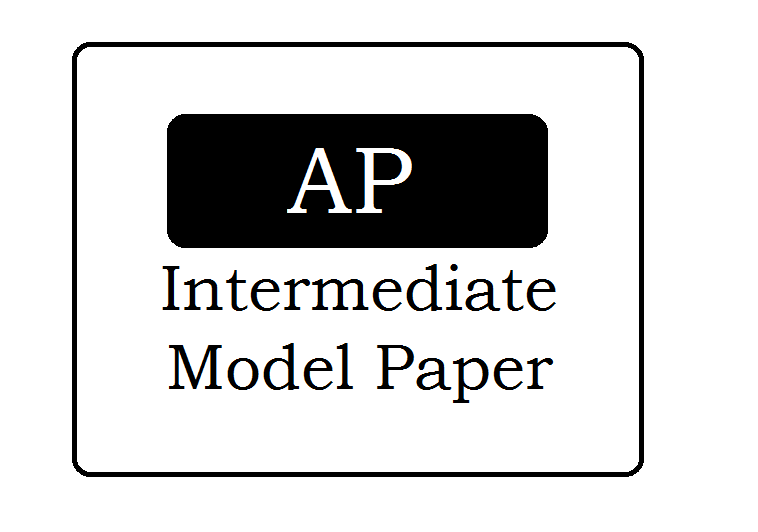 | | |
| --- | --- |
| Name of the Board | Board of Intermediate Education Andhra Pradesh (BIEAP) |
| About | AP Intermediate Model Papers 2021 |
| Class or Grade | Intermediate / 1st & 2nd Year |
| Medium | Urdu, English & Telugu Medium |
| Availability | Model Papers & Solved Question Paper 2021 Pdf file |
| Exam Pattern | Theory, Objective, MCQ Questions |
| Category | – |
| Academic Year | 2021 |
| Official Website | http://bieap.gov.in |
AP Inter 1st Year Model Paper 2021
AP Inter 1st Year Mathematics IA (Telugu Medium) Model Papers 2021 pdf Download
AP Inter 1st Year Mathematics IB (Telugu Medium) Model Papers 2021 pdf Download
AP Inter 1st Year Telugu Model Papers 2021 pdf Download
AP Inter 1st Year Mathematics IA (English Medium) Model Papers 2021 pdf Download
AP Inter 1st Year Mathematics IB (English Medium) Model Papers 2021 pdf Download
AP Inter 1st Year Physics (English Medium) Model Papers 2021 pdf Download
AP Inter 1st Year Physics (Telugu Medium) Model Papers 2021 pdf Download
AP Inter 1st Year Commerce (English Medium) Model Papers 2021 pdf Download
AP Inter 1st Year Botany (Telugu Medium) Model Papers 2021 pdf Download
AP Inter 1st Year Chemistry (English Medium) Model Papers 2021 pdf Download
AP Inter 1st Year Civics (English Medium) Model Papers 2021 pdf Download
AP Inter 1st Year Civics (Telugu Medium) Model Papers 2021 pdf Download
AP Inter 1st Year Commerce (Telugu Medium) Model Papers 2021 pdf Download
AP Inter 1st Year Economics (English Medium) Model Papers 2021 pdf Download
AP Inter 1st Year Economics (Telugu Medium) Model Papers 2021 pdf Download
AP Inter 1st Year Botany (English Medium) Model Papers 2021 pdf Download
AP Inter 1st Year Sanskrit Model Papers 2021 pdf Download
AP Inter 1st Year English Model Papers 2021 pdf Download
AP Inter 1st Year Urdu Model Papers 2021 pdf Download
AP Inter 1st Year Zoology (English Medium) Model Papers 2021 pdf Download
AP Inter 1st Year Chemistry (Telugu Medium) Model Papers 2021 pdf Download
AP Inter 1st Year Economics (English Medium) Model Papers 2021 pdf Download
AP Inter 1st Year Economics (Telugu Medium) Model Papers 2021 pdf Download
AP Inter 2nd Year Model Paper 2021
AP Inter 2nd Year Commerce (Telugu Medium) Model Papers 2021 pdf Download
AP Inter 2nd Year Commerce (English Medium) Model Papers 2021 pdf Download
AP Inter 2nd Year English Model Papers 2021 pdf Download
AP Inter 2nd Year Urdu Model Papers 2021 pdf Download
AP Inter 2nd Year Zoology (Telugu Medium) Model Papers 2021 pdf Download
AP Inter 2nd Year Economics (Telugu Medium) Model Papers 2021 pdf Download
AP Inter 2nd Year Mathematics IA (English Medium) Model Papers 2021 pdf Download
AP Inter 2nd Year Mathematics 2B (Telugu Medium) Model Papers 2021 pdf Download
AP Inter 2nd Year Mathematics IB (English Medium) Model Papers 2021 pdf Download
AP Inter 2nd Year Mathematics IA (Telugu Medium) Model Papers 2021 pdf Download
AP Inter 2nd Year Physics (English Medium) Model Papers 2021 pdf Download
AP Inter 2nd Year Physics (Telugu Medium) Model Papers 2021 pdf Download
AP Inter 2nd Year Zoology (English Medium) Model Papers 2021 pdf Download
AP Inter 2nd Year Economics (English Medium) Model Papers 2021 pdf Download
AP Inter 2nd Year Chemistry (Telugu Medium) Model Papers 2021 pdf Download
AP Inter 2nd Year Civics (Telugu Medium) Model Papers 2021 pdf Download
AP Inter 2nd Year Civics (English Medium) Model Papers 2021 pdf Download
AP Inter 2nd Year Sanskrit Model Papers 2021 pdf Download
AP Inter 2nd Year Telugu Model Papers 2021 pdf Download
AP Inter 2nd Year Botany (English Medium) Model Papers 2021 pdf Download
AP Inter 2nd Year Zoology (English Medium) Model Papers 2021 pdf Download
AP Inter 2nd Year Economics (English Medium) Model Papers 2021 pdf Download