Bihar Board 12th IMP Questions 2020 Download for BSEB Intermediate (12th) IMP Questions with Bit Questions for Arts Commerce Science…
The Bihar State School Examination Patna Board is announced the Class 12th Public Examination Schedule for Intermediate Arts Commerce Science Hindi and English Medium Students. The Students who are Study the Class 11th and 12th Stage of Intermediate 1st and 2nd year Arts Commerce Science Course those Students Can Download the BSEB Intermediate IMP Questions for 2020 final Examination tests with Answer Solutions and Bit Questions.
Who have Prepared the intermediate annual final Examination tests those Students Can Download the Patna Board 12th Bit Papers with Intermediate IMP Questions from the Board Previous Examination tests and Sample or Model Papers from the New Syllabus Text Books. We have Provide the BSEB Inter IMP Questions 2020 to guessing Class 12th Important Questions with Bit Questions for Short Answer Questions , Very Short Answer Questions and objective type Questions and the Study Material Bit Bank or Question Bank from Previous and Model Papers.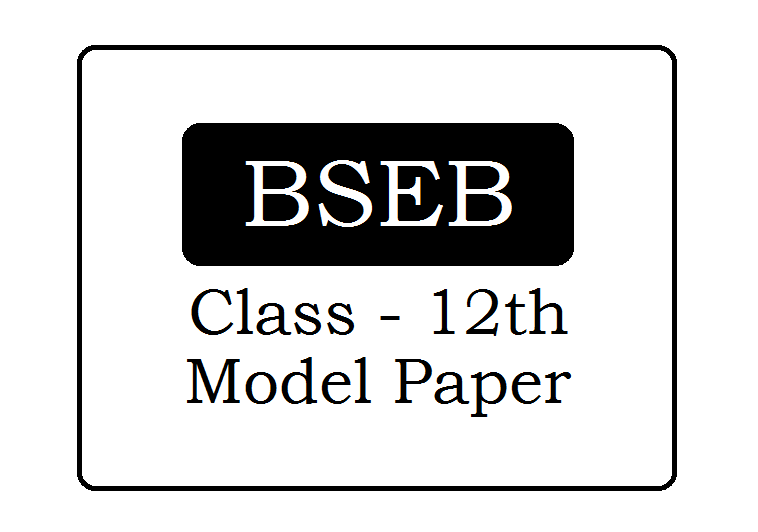 We are Downloaded the Previous Examinations Question Papers to Guessing IMP Questions with take as a Sample Papers from the Board Hindi and English Medium Arts Commerce Science Old Exams.
Please note : Everyone can read all Guides , Text Books and model Sets those are very use full to find important Questions along bit bank test papers
Bihar Board 12th Model Paper 2020
01 Bangla
02 Economics (Art)
03 Maithli – 50
04 Maithli-100
05 Philosphy
06 Psychology
07 English
08 Economics (Commerce)
09 Biology (Science)
10 Alternative English
11 NRB Hindi
12 Hindi (100 Marks)
13 History
14 Accountancy (Commerce)
15 Geography(Arts)
16 Entrepreneurship
17 Urdu – 50
18 Urdu – 100
19 Math
20 Chemistry
21 Persian
22 Physics
23 Arabic
24 Political Science
25 Agriculture
26 Home Science
27 Sociology
28 Physics Objective
BSEB Intermediate Model Paper 2020
Language
Arabic
Arts
Science
Commerce
Vocational
Model Question OFA Paper I