CGBSE HSSC Model Question Paper 2020, Chhattisgarh Board 12th Exam Question Suggestion with Bit Questions or Bit Bank…
Chhattisgarh Board of Secondary Education Raipur Board is going to conduct the Higher Secondary School Course Examination tests in the Month of March and April to the Hindi and English Medium Students to the Academic year of 2020. Every year the CGBSE is Conducted the HSSC of Class 11th and 12th Final Public Examination tests with New Syllabus as per the Patna Board Provided Text Books.
The CG Board HSSC Students Can Download the Chhattisgarh Raipur Board Higher Secondary School Important Questions with Bit Questions and Answer Solutions to Getting High Score of Marks in final tests. we are Provided the Class 11th and 12th Board Important Questions with Bit Bank from the Old Exams Previous Papers and Model Papers of New Syllabus to Short Answer Questions , Very Short Answer Questions and objective type Questions and the Study Material Bit Bank or Question Bank . We are Suggested we have Downloaded the Hindi Medium and English Medium IMP and Bit Questions from the Board Conducted HSSC Old Exams Sample Papers.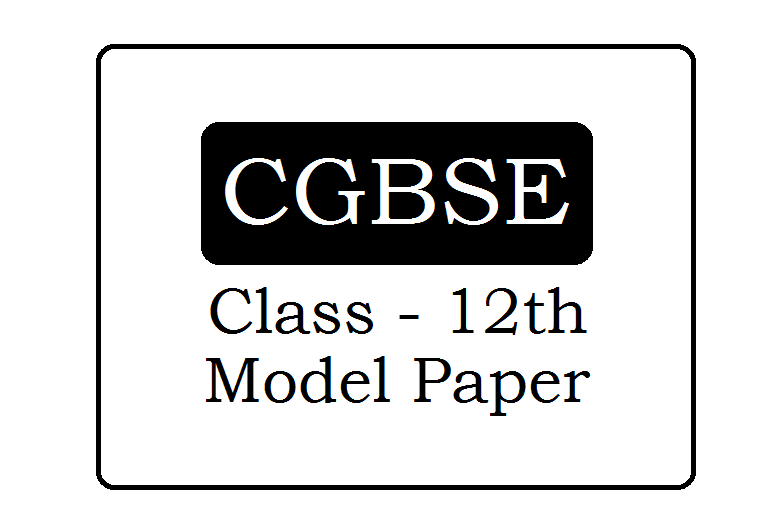 We are Downloaded the HSSC / 11th / 12th Previous Examinations Question Papers to Guessing IMP Questions with take as a Sample Papers from the Board Hindi and English Medium Arts Commerce Science Old Exams.
Download CGBSE XI XII IMP and Bit Questions 2020
Please note : Everyone can read all Guides , Text Books and model Sets those are very use full to find important Questions along bit bank test papers
Download CG Board 12th Sample Paper 2020
CGBSE 12th Model Paper 2020
1 Urdu genral
2 Urdu special
3 Aahar avam Poshan
4 Arthshastra
5 Bahikhata-Lekhakarm
6 Bhoogol
7 Business maths
8 Chemistry
9 Computer Application
10 English General
11 English Special
12 Grih Vigyan Kala
13 Hindi General
14 Hindi Special
15 Itihas (History)
16 Krishi Vigyan Ke Tatva avam Ganit
17 Maths
18 Paryavaran
19 Pashu Ahar, Dugdh, Matasaya, Kukkut palan
20 Phasal Utpadan avam Shastra
21 Physics
22 Rajniti Vigyan
23 Samaj shastra
24 Sanskrit Manviki
25 Sanskrit Samanya
CGBSE 11th Sample Paper 2020
1 Ahar & Poshan-F
2 Bhugol-CH
3 Bahikhata & Lekhakarma
4 Biology-CH
5 Chemistry
6 Economic
7 ENGLISH (Gen.)
8 ENGLISH Spec.
9 Fasal Utpadan & Udyan Shastra
10 Hindi_General
11 Hindi_Special
12 History
13 KRISHI VIGYAN & Ganit KE TATVA
14 MATHS
15 Matritva Kala, Health & care
16 Pashupalan & Milk Product
17 PHYSICS
18 Political Science
19 SANSKRIT (MANVIKI)
20 Sanskrit Samanya
21 Vanijya & Prabandh Ke multatva
22 VIGYAN KE TATVA
23 Vyaharik Arthshastra & Vanijya Bhugol
CG Board 12th Model Question Paper 2020
1 Chemistry
2 Biology
3 Economic
4 AAHAR & POSHAN
5 Bahikhata & Lekhakarm
6 English (Gen)
7 English (Spec.)
8 Fasal Utpadan udan shastra
9 Hindi_General
10 Hindi_Special
11 History
12 Krishi Vigyan
13 Maths
14 Matrikala, Sarir Kriya Vigyan
15 Class 12th – PHYSICS
16 Political Science
17 Pshupalan, dugdh
18 SANSKRIT (GENERAL)
19 SANSKRIT (Manviki)
20 Vanijya & Prabandh ke Mul Tatva
21 Vigyan Ke Tatva
22 Vyaharik Arthshastra & Vanijya Bhugol
CGBSE Board 12th – Plus Two Model Question Paper 2020
Political Science Exam Paper
Mathematics Exam Paper
Biology Paper
Physics Paper
History Paper
Geography Paper
Book Keeping & Accountancy
Crop production and horticulture